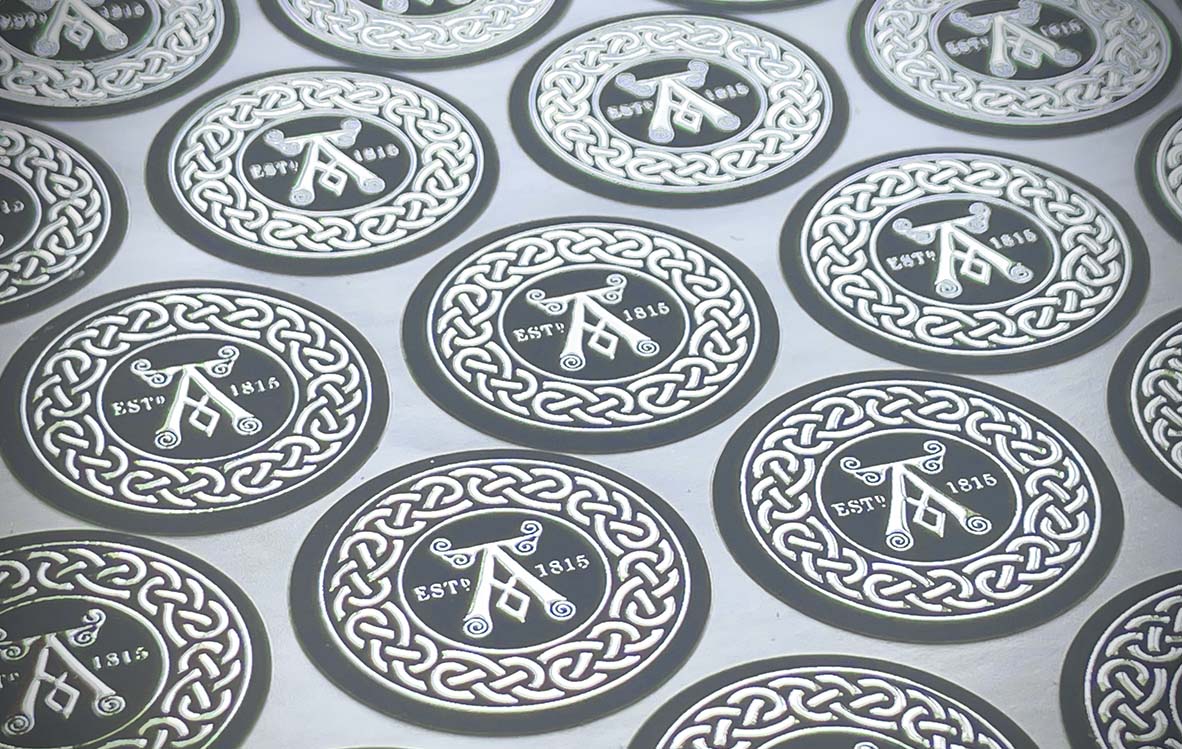 STICKERS & LABELS
Raised Foil Sticker Sheets
Custom product.
Standout, tactile, multi-colored foil stickers.
Unique for retail, events, or promotions.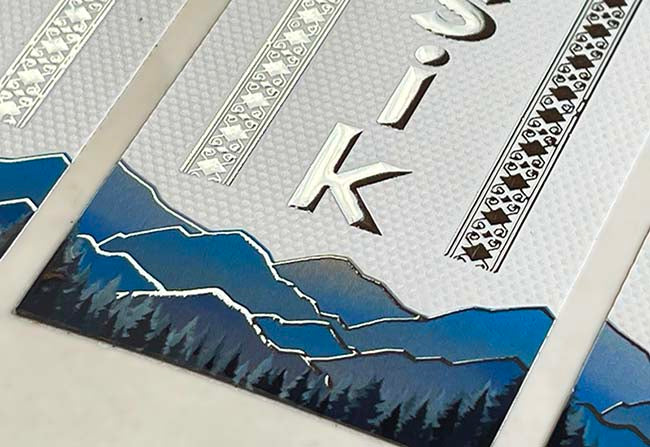 What does "Raised Foil" mean?
"Raised Foil" is a premium printing technique where metallic foil is used to elevate select areas of a design. This creates a visually appealing, tactile finish with a shimmering effect.
We offer the unique option to incorporate multiple foil colors in one design, adding an extra level of depth and color diversity to your custom stickers.

Features and options
Customize with multiple foil colors for a vibrant, unique look. Available on a clear or white vinyl base, with three finishing options to suit your preferences.
Raised Foil colors, spot UV coating
Spot UV

Holographic

Gold

Silver

Red

Dark Blue
You may use a combination of up to 3 foil colors in one design
Materials and finish
Transparent Vinyl

Clear water-resistant self-adhesive film.

White Vinyl

White water-resistant self-adhesive film.

Glossy finish

Shiny and reflective surface. Felt pen writable surface

Matte finish

Smooth and non-reflective, pen writable surface

Soft-touch finish

Velvety, smooth texture, a matte appearance. Pen writable surface.
Any of the finishes must be applied to either material
Explore Diverse Sticker Styles
Raised Foil Stickers
Raise your brand's visibility with our Raised Foil Custom Stickers.
They add a unique and eye-catching touch to any event or business branding plan. These stickers are made in Custom Sticker Sheets. They can bring fresh sophistication to your branding needs.
Each of these bespoke stickers adds a new depth to your Customizable Labels and Custom Vinyl Stickers. They also bring a personalized charm to events like weddings with Personalized Wedding Stickers and more.
Quality and Options
Our Raised Foil Custom Stickers bring a touch of luxury to your designs with their raised foiling. This feature adds depth and a tactile experience that is hard to forget.
You have the freedom to choose between a clear or white vinyl base. This lets you unleash your creativity by opting for custom shapes.
We offer the chance to use multiple foil colors in one design. This makes each sticker truly unique. Whether you need Personalized Name Stickers or Custom Label Printing, we've got you covered.
Our stickers can be made to fit any custom size, catering to your exact needs. Plus, we provide the option for die-cut stickers. This allows your designs to make a real impact, making them perfect for event stickers, promotional stickers, and more.
Quality matters to us. That's why all our stickers, from Custom Product Label Stickers to Custom Band Stickers, are waterproof and built to last. Our durable stickers promise to stand the test of time.
Order Process and Free Design
We've designed our order process with efficiency in mind, tailored to meet your needs. When you place an order, we carefully review any print files provided. If you've selected the free design option, we create that for you.
We value customer satisfaction. That's why, before starting production, we always seek your approval.
For added convenience, we offer free shipping within the US.
Take your business to new heights. Our Raised Foil Custom Stickers deliver both a visually appealing edge and practical value.
Frequently asked questions
More to Love: Explore Our Other Products