Regular price
Sale price
$99.00 USD
Unit price
per
Sale
Sold out
Description

Product FAQ

Featured Specs

Reviews
Plastic business cards with holographic foiling
In a world where first impressions are pivotal, plastic business cards offer an edge of sophistication and innovation. We proudly present our exclusive range of holographic business cards. These are not just business cards; they are conversation starters.
Imagine handing over a card that doesn't just say who you are but showcases it. Our transparent business cards testify to your company's clarity and vision. Printed on clear plastic business cards, your custom design, crafted personally for you, comes to life, giving your contacts a glimpse into your brand's transparency and commitment to quality.
The magic doesn't end there. With holographic business cards, every angle reveals a different shade of brilliance. The light dances across the surface, creating a mesmerizing effect that guarantees a second glance and a lasting memory of you.
Our plastic business card printing service is designed to be as clear as the cards are. We provide a straightforward, hassle-free experience, from creating your custom business card design to receiving the finished product with free shipping within the USA. 
Get the hard plastic business cards with our Thick plastic option. They will make a strong statement about your business ethos.
Our customization options include 1-3 color foil stamping, which adds a layer of sophistication to your custom business cards. The result? A tactile and visual experience that is as unique as you are.

What makes your plastic business cards stand out?
Our plastic business cards distinguish themselves through the use of exceptionally high-quality, rigid plastic that endures. We boast a selection of holographic foils and are the sole provider in the market to offer the option of incorporating multiple foil colors on a single card, creating a design that's as unique as your business.
Can I get a holographic effect on my transparent business cards?
Absolutely, you can achieve a holographic effect on your transparent business cards. We employ genuine holographic foils in our printing process, ensuring your cards have a unique and eye-catching appearance.
Are clear plastic business cards durable?
Certainly, our clear plastic business cards offer more than just a striking visual appeal; they are waterproof and resistant to bending or crumpling. While glossy plastic may be prone to scratches, we provide a matte frosted plastic option that mitigates this concern, offering a sophisticated and more scratch-resistant finish. However, if you're looking for that extra sheen for office use or at points of sale, our glossy finish remains an excellent choice, combining durability with a sleek, professional look.
What customization options do I have for my plastic business card?
You have a wide array of customization options for your plastic business card. We provide personalized design services for each customer, offering choices between glossy and matte plastic finishes. You can select one or more foil colors to enhance your design. Additionally, if needed, we can offer the option to print a full-color image on your card, although this service is not included in the base cost of this product.

★ Quantity – choose on drop-downs, 100 pcs min.
★ Clear Transparent Plastic
★ 1-3 color Foil Stamping
★ Size - 86x54 mm, Rounded corners
★ One-sided for transparent cards
Samples of business cards are presented. We create your custom layout based on the information you provide.

ANY OTHER SIZE requires a CUSTOM SHAPE OPTION that is available for an additional fee.
Specification

Size: 86x54 mm / Credit card size

Material: Clear Transparent Plastic

Thickness: 0,5 mm, or 0,76mm (Credit Card Thickness)

Print: None

Foiling: One-sided

Special Effects: None
Shipping & Returns

Standard International Shipping takes 10-15 business days. (to the USA)
Express Expedited Shipping takes about 5-9 business days. (Worldwide)

For both options, some delays may occur. We will send the tracking number to you, so you can easily track the item status.

We DO NOT provide delivery guarantees and returns/exchanges for orders that arrive after the expected date. It may be critical for significant events, anniversaries, birthdays, etc.


The buyer will shoulder any import duties and taxes imposed upon arrival to your country.

You may request a cancellation within 12 hours of purchase, but no refund if a rush order is submitted to print.

 

For more information, please check out the Shiping policy and Refund policy
Have a question? Please get in touch with us in a way convenient for you.


• Customize Every Single Detail
• Global Shipping Available
• State-of-the-Art Printing Facility On-Site
• Secure Checkout Guaranteed
Share
View full details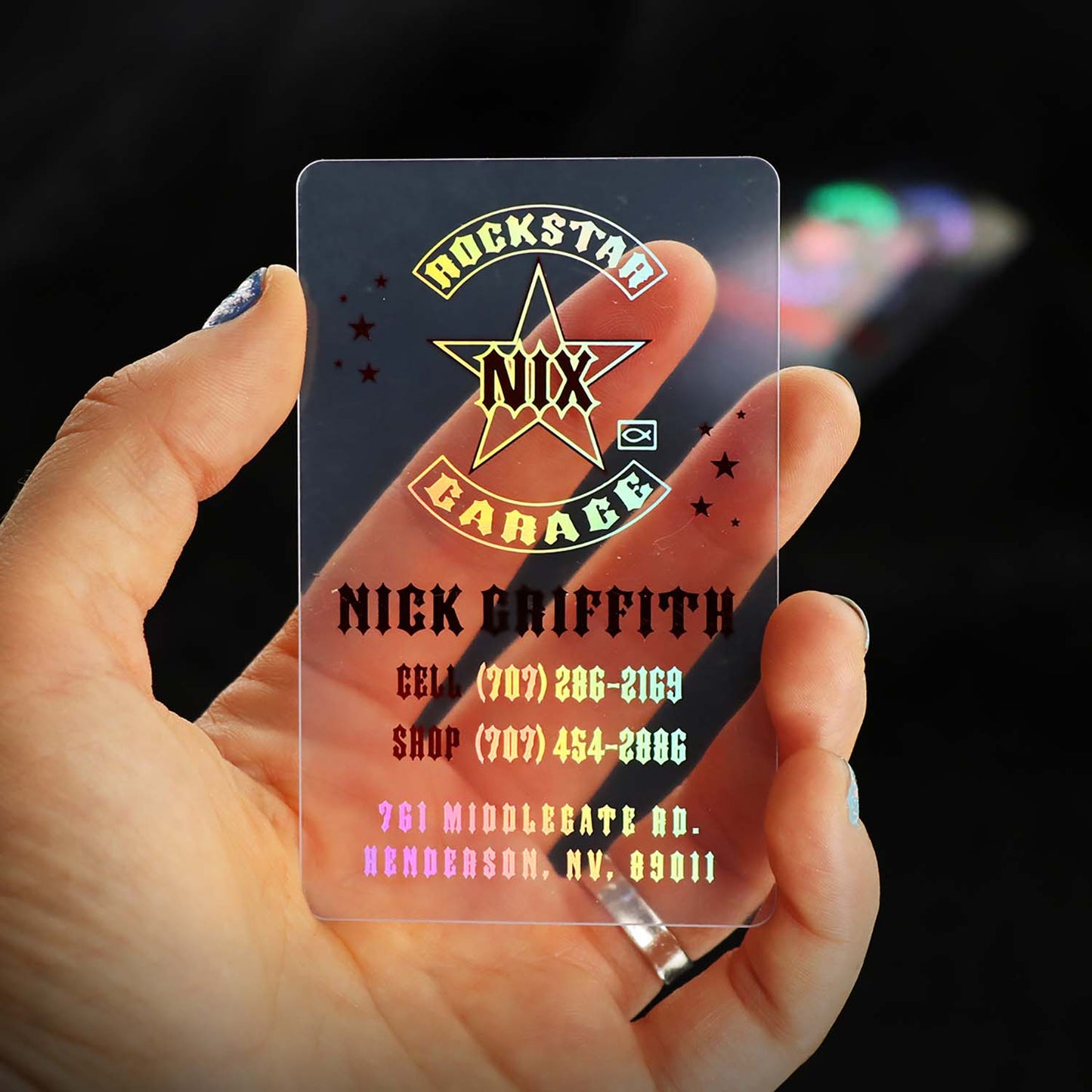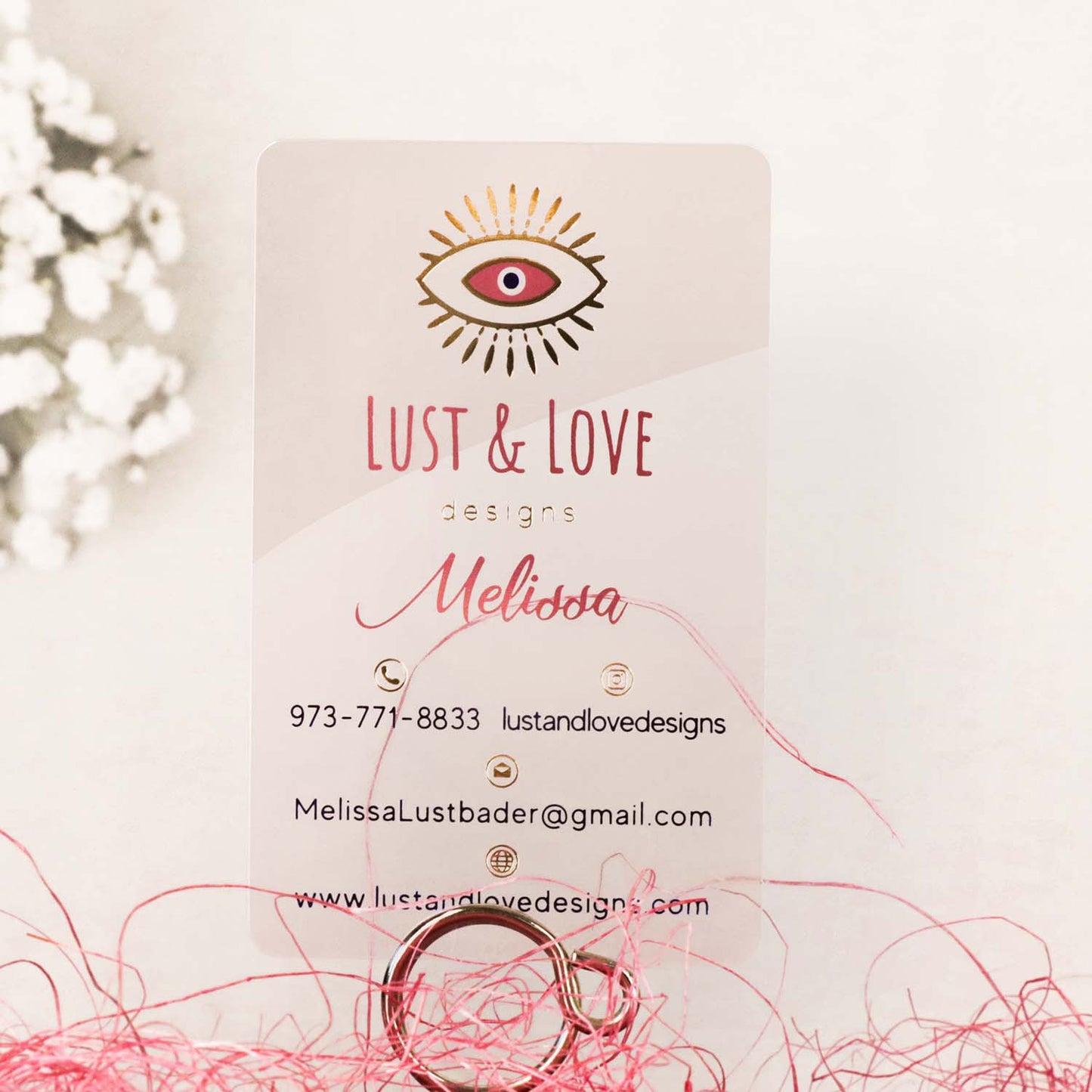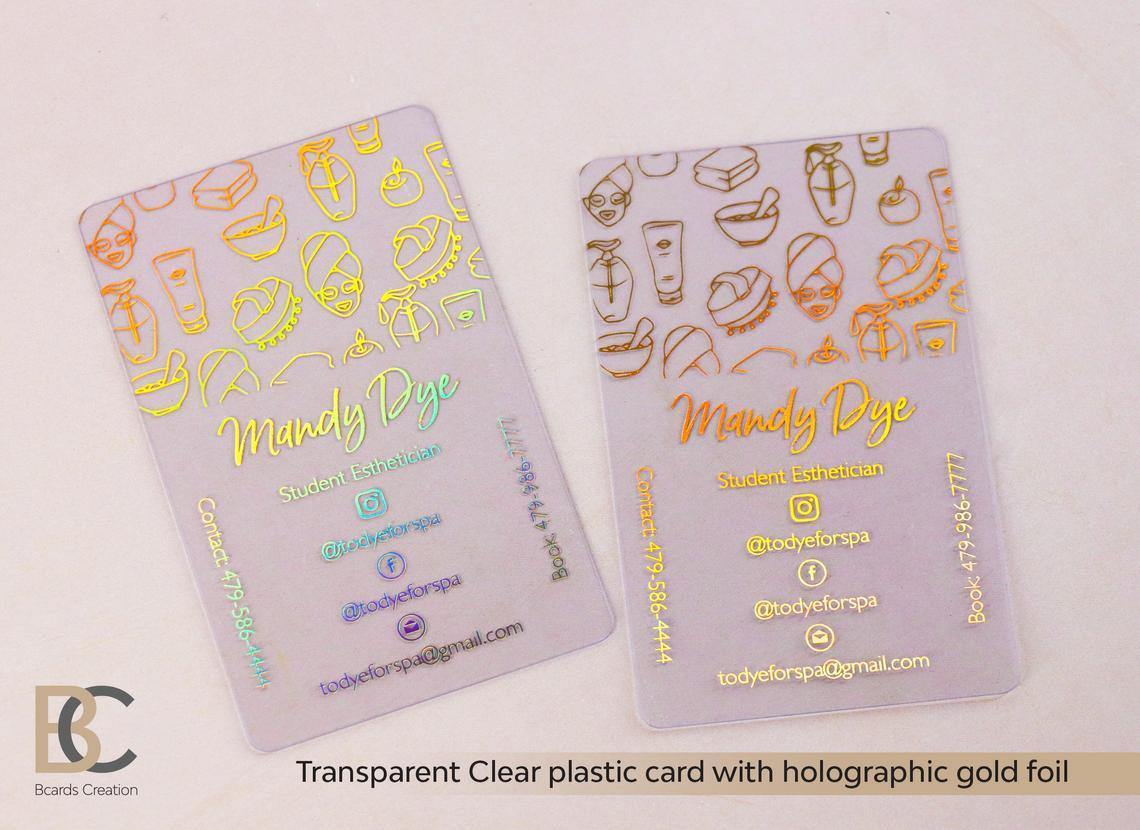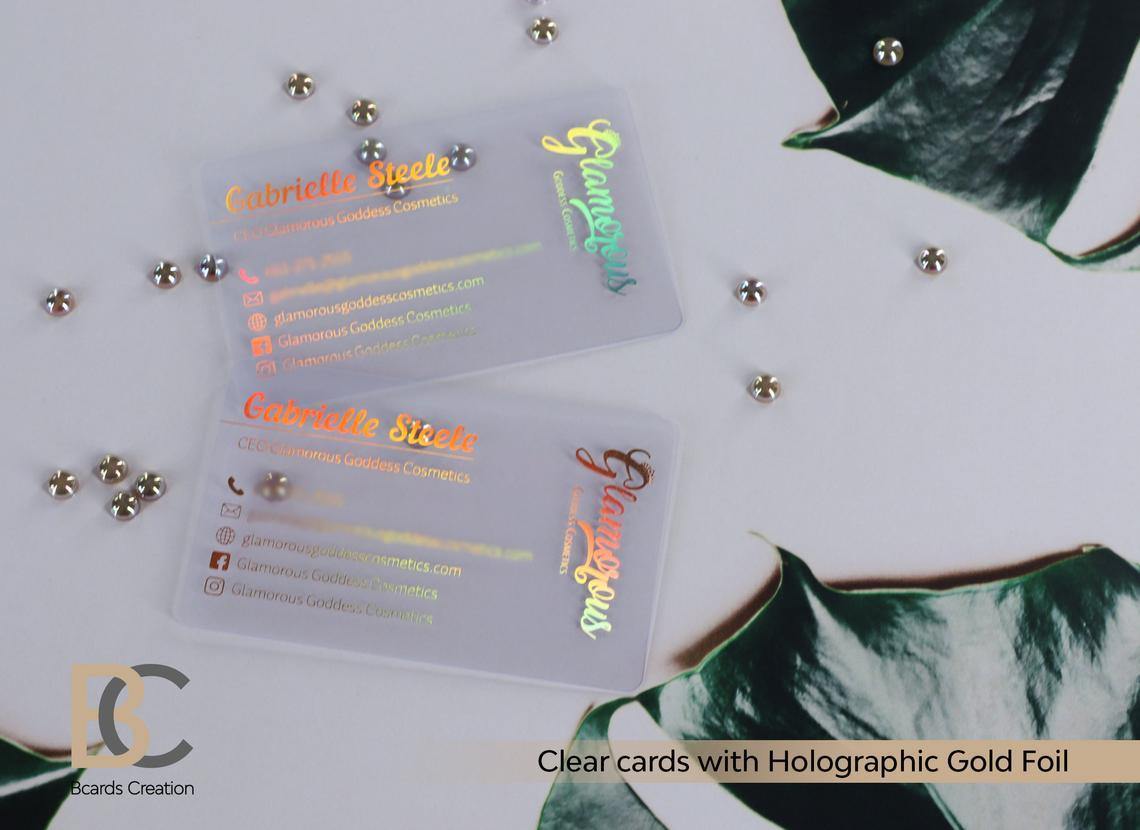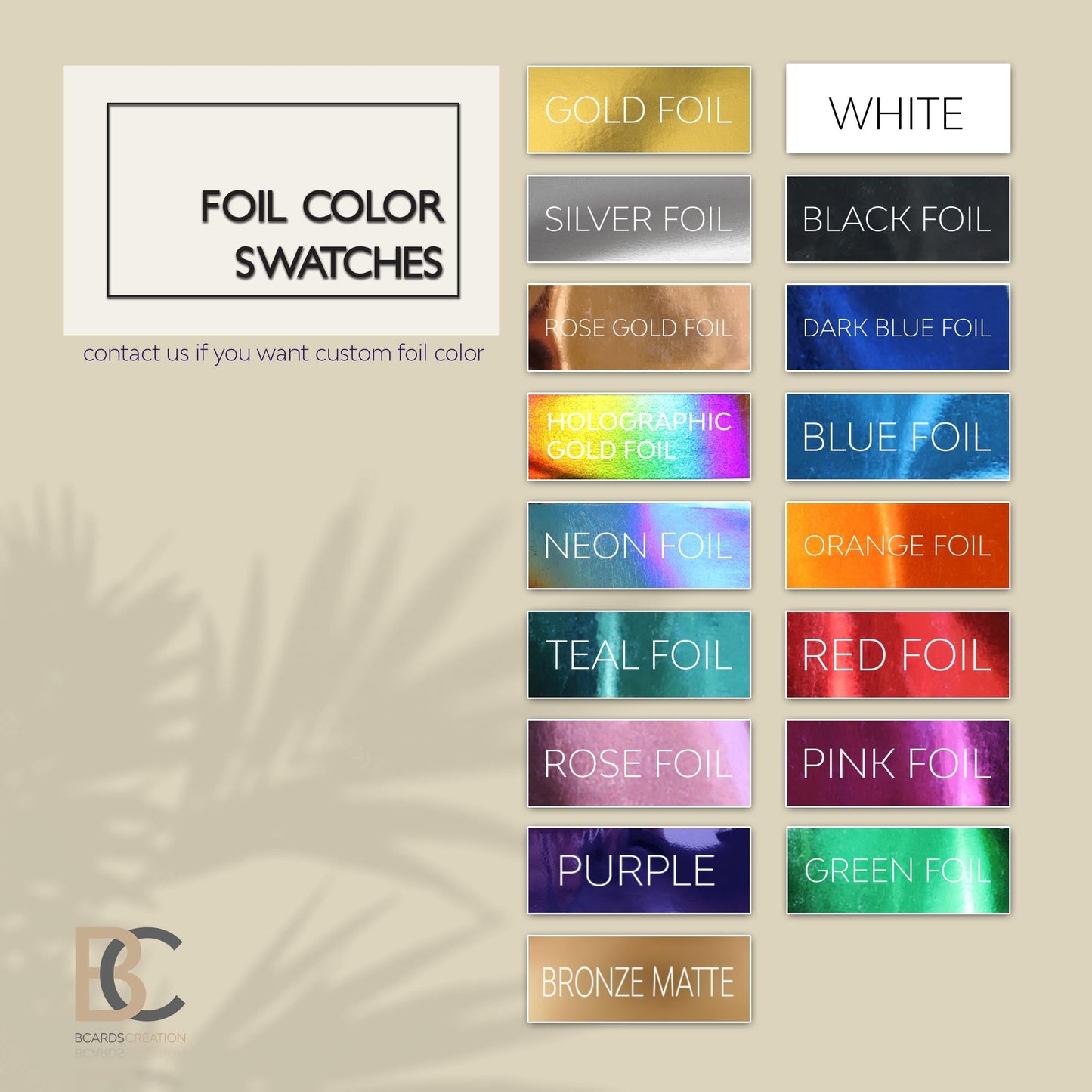 What are the order steps?
Brief description of the order process.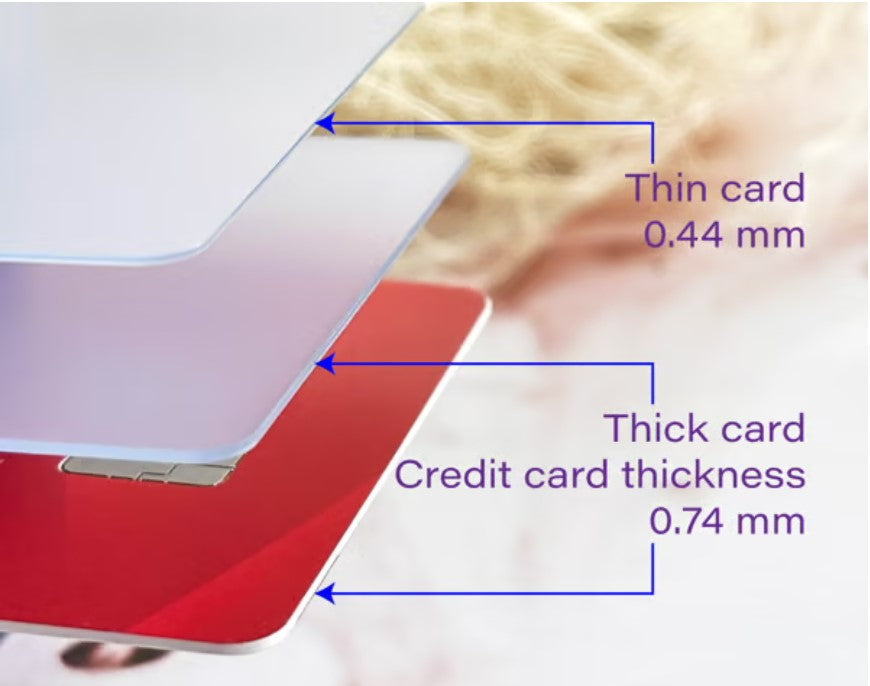 Thick or Thin? That is the question
There is no obvious answer.
We can recommend you choose.
Thin cards are more convenient to use, as thin plastic takes up less space. And if you plan to carry cards with you, this is a more suitable choice.
Thick cards have a more representative look. However, it is not always necessary, for example, for an eyelash master or a flower shop. Thick cards are more convenient to use on the spot, without carrying around.
Transparent Plastics we offer
Transparent Clear Plastic

- Thickness options - standard credit card thickness (0.74mm) or thin ⅔ standard credit card thickness (0.5mm)

- Comes out with a shiny finish

- Water and tearproof qualities

- Transparent on both sides, so only single-sided printing is applicable

- Prone to scratches

Transparent Frosted Plastic

- Thickness options - standard credit card thickness (0.74mm) or thin ⅔ standard credit card thickness (0.5mm).

- It has an elegant matte finish.

- A semi-transparent appearance is similar to a frosted window.

- Single-sided printing is applicable.

- Not as scratch-prone as clear plastic.
Frequently Asked Questions