Regular price
Sale price
$24.00 USD
Unit price
per
Sale
Sold out
About

Ordering

Benefits

Q&A
Truly appealing and chic! Boost your brand visibility with our high-quality, bespoke Raised Foil Custom Stickers. Tailor-made to your specifications, these 2 sq. in. waterproof and vinyl stickers promise durability and vibrant color representation. We offer a bulk Sticker Sheets order option, making it a breeze for event planners or businesses gearing for promotional campaigns.

Perfect for wedding planners, our personalized wedding stickers add a memorable touch to the occasion.

Are you a band needing custom band stickers or a business seeking unique branding stickers? Our personalized approach ensures your identity shines through.

Beyond standard shapes, our die-cut stickers offer a world of design flexibility. Don't have a design? No problem! Our team will provide a free custom design, turning your ideas into beautiful custom label stickers. Experience top-tier sticker printing services with us and stand out from the crowd!

Order
Once you've placed your order, our dedicated team will either review the file you've provided for printing or begin working on a free design based on your specifications. To ensure your complete satisfaction, we will send you a digital proof for your approval before we start the production process.

Please note we will proceed to the production phase after your approval only.

Delivery
We provide free shipping within the US, guaranteeing that your stickers and labels arrive in perfect condition, ready to enhance your branding or event. Please note the production and delivery times may vary depending on the size and complexity of your order. The standard turnaround time is 5 business days. Free Standard Shipping usually needs roughly 10-12 business days. Express Shipping is about 6-8 business days. Your satisfaction is our top priority, and we're committed to providing a smooth, stress-free ordering and delivery process.

Superior Quality and Attractive Look: Raised Foil technology lends these stickers an irresistible allure. Made from durable vinyl, our stickers are waterproof and designed to last, providing excellent indoor usage.

Customization: Our offer of custom shapes, sizes, finishes, and raised foiling allows for ultimate personalization, ensuring your stickers truly reflect your vision and stand out from the crowd.

Free Design Services: If needed, our skilled designers are ready to help create a design that meets your specifications, providing added value and ensuring you get exactly what you want.

Review and Approval Process: We prioritize your satisfaction by sending proofs for review and approval before production, giving you full control over the final product.

Free Shipping: Our offer of free shipping within the U.S. adds value and convenience, eliminating additional costs.

Superior Customer Service: Our commitment to meticulous review, production, and delivery processes ensures a seamless, high-quality experience from start to finish.

Our stickers are more than just adhesive designs; they are a cost-effective tool for brand promotion, personal expression, or event decoration, making a powerful impact wherever they're used.

What is the process for custom design?
After placing or during the process of placing the order, you can deliver your design ideas and specifications to our design team. We'll then provide a custom design, make revisions based on your feedback, and proceed to print once you're completely satisfied. Our design service correspondence is facilitated through email.

What does the 'Raised Foil' mean?
'Raised Foil' refers to a special printing technique where certain parts of the design are covered in metallic foil and raised slightly, giving the stickers a more luxurious and tactile feel.
Can I see a proof or sample of my sticker design before it gets printed?
Absolutely! We provide digital proofs of your design for approval before printing. We want to ensure you're completely happy with the design before we go ahead with the full print run.
Are these stickers waterproof?
Yes, our Raised Foil Custom Shape Stickers are printed on durable transparent or white vinyl, which is waterproof.
What shapes can I choose for my custom stickers?
We offer a variety of predefined shapes for your custom stickers. If you have a particular shape in mind, feel free to convey it to our design team. They will integrate it into a sticker design to meet your requirements.
How long does it take to receive my custom stickers after ordering?
Once your order is committed to print, our standard production time typically takes 5 business days. If you opt for Free Standard Shipping, the delivery can be expected within approximately 10-12 business days from the print date. For a quicker delivery option, you can choose Express Shipping, which usually ensures your order arrives in around 6-8 business days from when it's printed.
Do you offer bulk discounts for large orders?
Answer: Yes, we do offer discounts for bulk sticker orders. The larger the order, the larger the discount. Don't hesitate to reach out to us if you can't find the quantity you're looking for in the listing.
Can I use my own design for the stickers?
Absolutely! You can provide your own design, and we'll print it with the same raised foil quality. We also provide free design services if you need assistance creating or changing your design.
What applications are these stickers suitable for?
Our Raised Foil stickers are a versatile choice for any scenario that calls for highlighting your brand. Ideal as product labels, promotional goods, event stickers, and many other applications, they are designed to grab attention.
What if I don't have a design in mind?
No worries at all! We have a talented design team ready to assist you. Just share your ideas or inspirations, and we'll create a unique design that suits your needs. The design service is included free with your order. 
What materials are used for these custom stickers?
Our Raised Foil Custom Shape Stickers are printed on high-quality, durable transparent or white self-adhesive vinyl. Both materials can be made in clear (glossy), frosted (matte), or soft-touch (similar to matte but with soft tactile surface) finish. The design features a raised foil element that adds an appealing and tactile metallic shine to your stickers.

If there are any other inquiries you have, please feel free to reach out to us.
Specification

Size: Custom shape

Material: Transparent self-adhesive film, or White self-adhesive film

Print: Full-Color or None

Foiling: No or One-sided
Shipping & Returns

Standard International Shipping takes 10-15 business days. (to the USA)
Express Expedited Shipping takes about 5-9 business days. (Worldwide)

For both options, some delays may occur. We will send the tracking number to you, so you can easily track the item status.

We DO NOT provide delivery guarantees and returns/exchanges for orders that arrive after the expected date. It may be critical for significant events, anniversaries, birthdays, etc.


The buyer will shoulder any import duties and taxes imposed upon arrival to your country.

You may request a cancellation within 12 hours of purchase, but no refund if a rush order is submitted to print.

 

For more information, please check out the Shiping policy and Refund policy

• Customize every single detail
• Worldwide shipping
• Own factory with high-end printing machines
• Guaranteed safe checkout
Share
View full details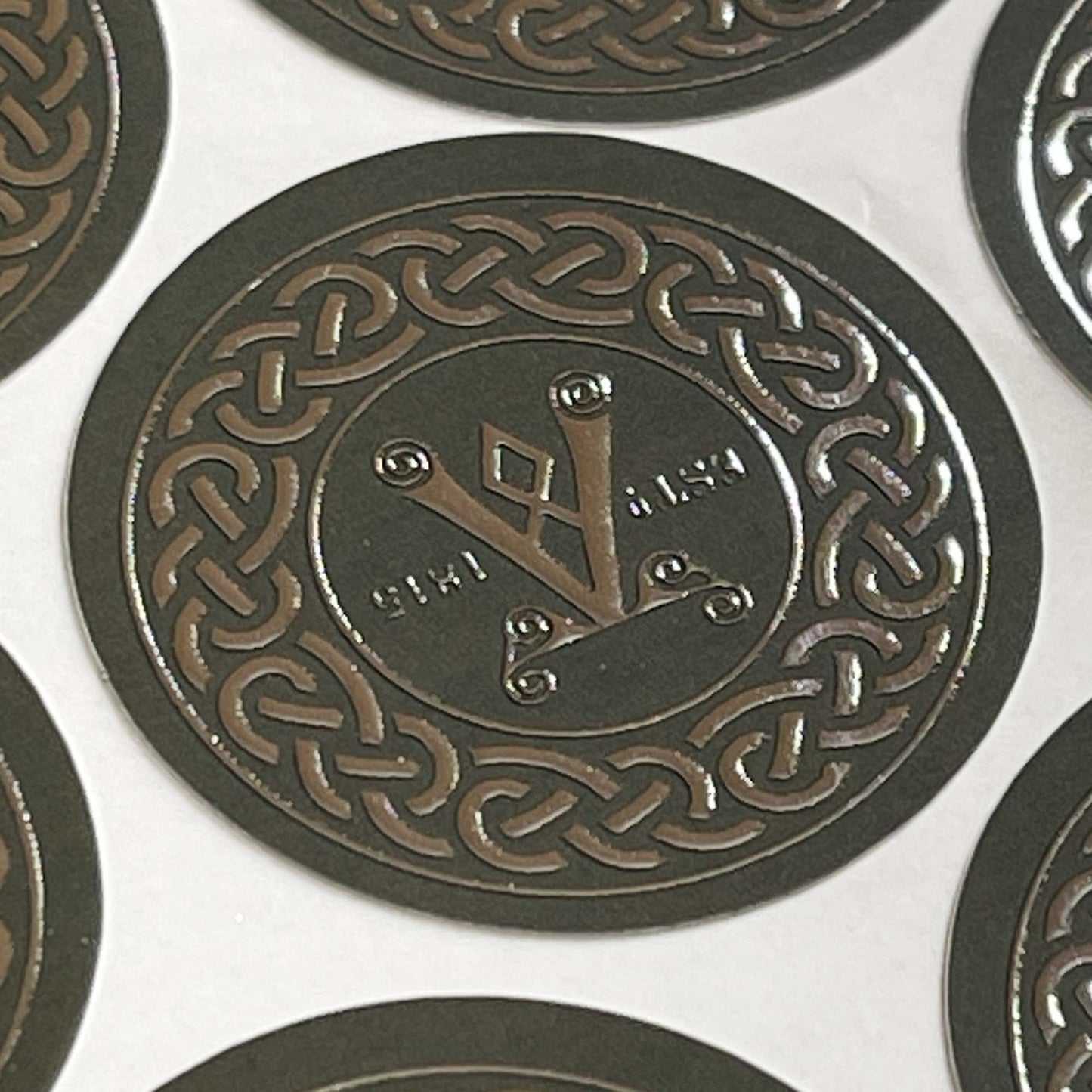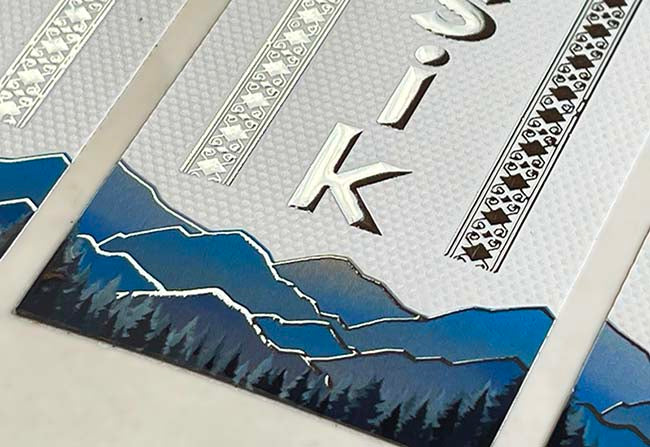 What does "Raised Foil" mean?
Raised foil is a unique printing technique that involves the application of metallic foil to select areas of a design, causing them to be slightly elevated, creating a tactile, shiny effect. This not only enhances visual appeal but also introduces a textured feel.
We take this technique a step further by offering the option to incorporate multiple foil colors on a single sheet, truly making your custom stickers stand out with depth, shine, and color diversity.
Materials and finish
Transparent Vinyl

Clear water-resistant self-adhesive film.

White Vinyl

White water-resistant self-adhesive film.

Glossy finish

Shiny and reflective surface

Matte finish

Smooth and non-reflective

Soft-touch finish

Velvety, smooth texture, a matte appearance
Design Samples for Raised Foil Stickers
Feel free to reference the design sample number when submitting details for our free design service.
Worth to order!
I am absolutely thrilled with these Raised Foil stickers! Their design and classy look, coupled with the superb durability of the waterproof vinyl, have given my brand the standout appeal I was after. They're a mega hit!
So glad to hear that you're loving your Raised Foil stickers! Your satisfaction is our top priority. Thanks for the fantastic review!